Nokia, a name synonymous with cell phones, quality and durability !! Oh wait !! That was 5-6 years ago, today its a company associated with the dead Symbian OS, desperately trying to survive , collaborating with Microsoft and searching some foothold to stand back again.

Well, that was a time when the world focused on mobile as a means of voice communication. In emerging markets like India, the use of cell phones was slowly beginning to grow. Consumers wanted phones which were sturdy and easy to use and Nokia dominated this market.

With the advent of smartphones this changed. The focus changed from voice to data. User experience, design, graphics, internet driven applications, portability became the driving force behind the industry. Apple and Google's Andriod platforms came up with huge number of applications creating an ecosystem which helped them thrive. Samsung, Sony and other major players realized this trend and quickly shifted to the android platform. In India, a number of small local players like Micromax, Karbonn came up and in the growing market could easily establish themselves.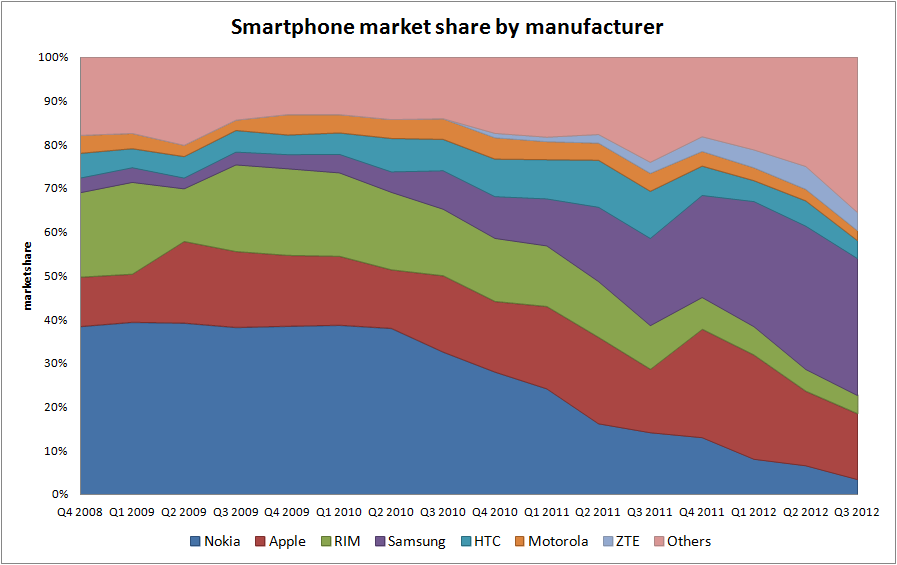 Decreasing Market Share as Smarphone usage Increased
Nokia's business was booming in the mid 2000s, with massive profits and phone shipments keeping their shareholders happy and clamoring for more of the same. But this success evidently made it harder for them to change their business. They have always been great with hardware but software is what they lacked. Due to their phone first view they could not realize the full effect of what was happening around them. They aim was to keep on producing mid-range feature phones with a little bit extra and that is what Symbian could provide. While it was trying to fix Symbian the trends passed by it.
The had the size, capital, market presence and brand name to win it all back. However, their acts were too little too late. Also, their strategies were not well thought and long term. They made Symbian open source trying to attract the developers. Then they tried Maemo/MeeGo development
as an alternative platform but that failed too. Their current attempt is to create Windows phones in tie up with Microsoft.
The latest Lumia phones have been a little respite to the failing Nokia. However, its not significant enough to promise a bright future. They need to step back and analyze the market trends. A big company like them cannot survive with small changes and innovations. They need to focus on innovation; they need something big, something revolutionary. Leaving their risk averse approach, they need to surprise the world.
Looking at this gloomy picture a possible silver lining comes to mind. With Google buying Motorola Mobility, Apple having the iPhone, Microsoft might think of a dedicated hardware platform for its Windows phones. To compete with the leaders Microsoft could and probably should try to acquire this ailing Finnish firm. It would remove their dependency from the hardware and give them a new road to progress upon. With Nokia's CEO, Stephen Elop being ex-Business Head of Microsoft and the one under whose leadership Lumia is launched with Windows, this might be the next thing on the cards.
What the future holds for Nokia is a lot uncertain!! Will it be taken over, will it rise or is it too tale and will just perish remains to be seen.