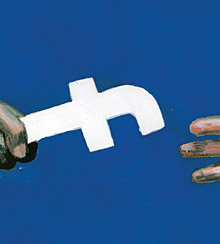 More than 40 percent of public companies don't have a formal succession plan in place for the company leaders. The investors, analysts and regulators are scrutinizing CEO succession. According to the Conference Board's CEO Succession Practice 2012 report, only 32 percent of companies said that the company board plans their CEO succession. For Facebook to shift from a highly successful startup to a publicly traded company, its board will need to play a significant role in planning the company's leadership succession plan.
Engaging the board and utilizing their expertise and guidance will be even more important now as Facebook is public. Mark Zuckerber has the chance to create a legacy by setting a gold standard for CEO succession. Here are some ways this strategy can be implemented:
Work with the board members to translate the strategic vision into specific organizational capabilities that define requirements for Facebook. This is analogous to creating a Facebook profile of the successful leader of the future.

Think couple of CEOs ahead to allow the selected brightest stars today to be developed for the future.

Board should be familiar with the leadership group and their potential. Generations of CEOs can be groomed by assigning mentors and sponsors, and creating tailored leadership development programs that will aid in management development.

Cross-training the successors with mix of job training, intensive coaching and educating will give them the opportunity to learn about other parts of the company.

Make CEO succession a continuous process development agenda item, as it addresses a multigenerational process. It is crucial for the board to iteratively discuss, create and refine the C-suite development process. Finally the most important rule is for the current CEO to be well dedicated in the process of developing strong successors.
These implementations require a long-term dedication from Facebook and there it should be their mission to develop and practice long-term strategies that will foster the company's growth and investor's trust. Should Facebook use a consulting firm's help to develop governance and succession process?
Sources:

http://www.nonprofitquarterly.org/governancevoice/21062-the-importance-of-linking-leadership-succession-strategy-and-governance.html

http://digitaledition.strategy-business.com/publication/?i=121556&p=13