In the past few years, concepts and technologies like mobility, SaaS, cloud computing, BYOD (Bring Your Own Device) have dominated the IT space. The big players in the space have either had to step up their game or they are eased out.
A good example is IBM who noticed in the 90's that their reliance on servers and mainframes could not longer retain them as market leaders in the IT space. They decided to leverage on the contacts they had built via the long standing relationships they had with IT departments of companies through the supply of hardware to proffer B2B IT solutions. They repositioned the company and came up with a strategy to deliver IT consulting services. today, IBM is a market leader in IT consulting.
Taking a cognitive look at the industry, we can posit that a new cycle has already begun. SaaS, IaaS, PaaS are but a few acronyms which weren't bourgeois a few years back. However, to succeed in the IT space today, small companies and big companies alike have to leverage on these technologies.
In the light of these, we can see the strategy that ERP giant SAP has adopted. Earlier this year,
"SAP AG announced that it was launching an "accelerated" cloud strategy spearheaded by SuccessFactors, a cloud provider it acquired this past February." [2]
In an article titled "SAP's strategy: All cloud, all mobile and all in memory" by Brain Bloom of ComputerWorld Canada, he writes about the heavy investment that SAP has infused into cloud, mobile and in-memory data analytics. The acquisition of SuccessFactors, a SaaS based company is a clear indication of the line that SAP is currently towing. Accordingly, Jim Hagemann Snabe, co-CEO of SAP predicted that in less than five years, all computing worldwide would be mobile, in-memory and available in the cloud.
SAP HANA, an in-memory computing appliance that combines SAP database software with pre-tuned server, storage, and networking hardware from one of several SAP hardware partners has been one of their latest flagship; laying credence to the new mobile, cloud and in-memory strategy of the company.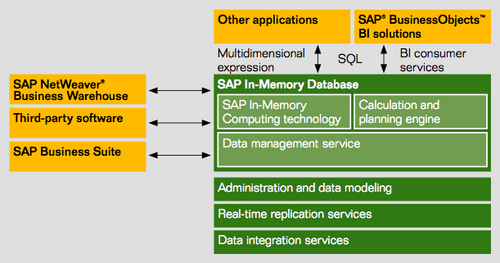 Fig: SAP HANA Architectural Design
Source: SAP 2011
Would they be successful? They look to be on the right-track, but ultimately, only time will tell.
References
1) Kelly, Jeff. "What is SAP HANA? | SAP HANA Cost - Wikibon." A Wiki for Sharing Technology & Business Knowledge - Wikibon. Wikibon, 16 Nov. 2011. Web. 31 Oct. 2012. <http://wikibon.org/wiki/v/Primer_on_SAP_H
2) Bloom, Brian. "SAP's strategy: All cloud, all mobile and all in memory - Page 1 - Enterprise Infrastructure." IT World Canada Information Technology news on products, services and issues for CIOs, IT managers and network admins. ComputerWorld Canada, 15 May 2012. Web. 31 Oct. 2012. <http://www.itworldcanada.com/news/saps-strategy-all-cloud-all-mobile-and-all-in-memory/145433>.